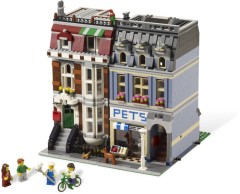 Though unadvertised, Toys R Us is currently offering Buy One, Get One 40% Off for the "larger" Creator sets. If you've been holding off on getting some modulars, most seem to be in stock and all at MSRP. Additionally, it might help those looking for both a Sopwith and Medieval Market Village. It's currently unclear how long this promotion will last. But don't worry, Bricktober is right around the corner if you wait. According to forum member Sidersdd, the first week will also be a BOGO40%.
Update: I'm getting reports that there's a 'buy 2 get 2 free' offer in TRU in the USA as well at the moment, and davetheoxygenman emailed to say that he found 3920 The Hobbit game in his local branch, priced £34.99 -- Huw
Commenting has ended on this article.