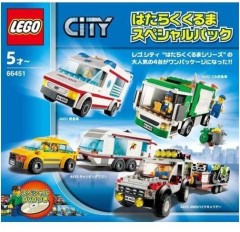 I've just added to the database around 15 Product Collections that have been produced this year, thanks to whung who tracked them down in the far-flung corners of the Internet.
Product collections consist of two or more sets packaged together, either shrink wrapped with printed cardboard or in a specially printed box, and are sold by a small selection of retailers in various countries. They are not all available in every country, and as you can see from some of the packaging, they are often made for specific markets, notably Japan.
They usually surface in the shops at this time of year, ready for Christmas. In the UK they are rarely seen, although TRU does carry a few. I guess they serve two purposes: they help LEGO shift what otherwise might be unsold stock, and to provide more 'big boxes' on the shelves for present buyers to choose from.
You have to be a really dedicated collector to want them all and track them down for your chosen themes of interest, so for that reason, they are 'greyed out' when you browse the Brickset database. And when you analyse your collection, they are ignored in the totals.
The database also contains what I call 'virtual product collections'. These differ from normal product collections in that they don't actually exist other than as a stock unit at shop.LEGO.com that enables you to order multiple sets at a time. (here's an example). Given they are virtual, I usually delete them from the database once shop.LEGO.com stops selling them.
If you come across any product collections we don't already have listed, do please let us know. They are difficult to find, usually hidden away on small retailers' websites. whung did a fantastic job finding these ones!
Commenting has ended on this article.