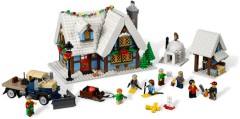 If you're a VIP member at shop.LEGO.com, you can now order 10229 Winter Village Cottage. VIP members received an email today offering an interesting choice:
"We know our LEGO VIPs will want to be the first to get their hands on the new Winter Village Cottage Exclusive set! However, with double VIP Points just around the corner, you'll get the VIP Star treatment WHENEVER you make your purchase:

OPTION 1: Purchase September 24 - September 30: VIP Members get exclusive early access to purchase Winter Village Cottage!
OPTION 2: Purchase October 1 - October 31: VIP Members get DOUBLE VIP Points on every purchase of Winter Village Cottage.
"Simply choose which of these options works best for you to purchase this great new LEGO exclusive. Just make sure you're signed in with your LEGO ID to get shopping!"
It sounds a bit of a no-brainer to me. Why would you buy it 6 days early when you can effectively save 5% on October 1st??
Whenever you choose to buy it, please do so via these links: UK (£90) | USA ($100) | Canada ($130). Note that if you're not logged in at shop.LEGO.com, you'll be sent to the home page when you click on them, which confused me this morning when I first read about this at Brick Fanatics.
(Thanks tzi for sending me the email text: I haven't received it directly yet).

Commenting has ended on this article.