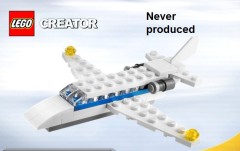 A while ago we asked the LEGO community team to find out about some of the polybags that we have listed but don't know if and when they were available. This is obviously important information if you're a polybag completest (eh, atkinsar...)
Today we received information about them, as follows:
7806 and 7807 which were at one time listed in the LEGO replacement parts system, were never produced.
4897, 7612, 7796, 30016, 30022 were never produced but instructions are available at LEGO.com so you can make your own (I made the bee a while ago).
30036 was produced but seems to be incredibly rare. There is one listed on BrickLink and only one has been sold in the last 6 months.
I've created an advanced query 'sets that were never released' that shows these and all the other sets that have appeared in printed material at LEGO.com but never saw the light of day.
The airliner, 7807, is a particularly nice model, isn't it. I guess like the others, it was designed but never selected for co-promotion by LEGO partners.
(Thanks to Jan and Kim at LEGO for assisting with our enquiries, I'm sure we'll have more questions soon!)
Commenting has ended on this article.