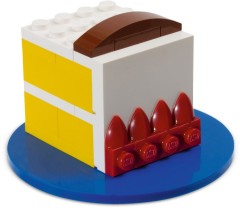 For once, our offers are slightly better than those in the USA and Canada:
- Double VIP Points
- FREE TC-14 Minifigure with any Star Wars order over £50, while supplies last.
- FREE Shipping on orders of £50 or more (from the 16th).
- 10227 B-Wing Starfighter now available!
- 10229 Winter Village Cottage now available!
AND... a special exclusive offer available when you order through Brickset and a couple of other AFOL sites:
- Free 40048 Birthday Cake set with any purchase of £25 or more.
- Valid 1-31 October or while supplies last.
- To redeem, enter CAKE at checkout.
- Valid for UK Online orders ONLY
This offer has been arranged specially for us by the LEGO affiliate manager, in response to my indignation that it wasn't available in the UK earlier in the year at the time it was in the USA, so please show him (and me), your appreciation and place an order!
Commenting has ended on this article.