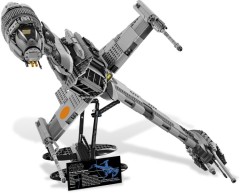 Thinking of buying the new B-Wing? Brickset member cavegod built it a few weeks ago (and will be bringing it to GWLS at the weekend I believe) and you may recall he wrote a brief review.
Now that it's out 'in the wild', a couple of other reviews have surfaced that will help your buying decision:


Between the two you should be able to determine if it's the set for you. The reviews are actually mixed: Ace's review as an experienced LEGO builder and owner (I suspect) of most SW sets, finds flaws in its design and build, whereas the Jedi News review is more positive, perhaps because to the reviewer, all LEGO Star Wars is cool regardless of any minor niggles. Read them both and make up your own mind.
Do you have it? What do you think of it?
I'm still undecided whether to buy it or not. I don't usually buy the large UCS models because (a) I find I can't be bothered to build the ones I do have, and (b) what do you do with them once they are built, other than let them gather dust??
If you are in the market for one, be sure to use these links to help keep Brickset on-air!: UK | USA | Canada.
Commenting has ended on this article.