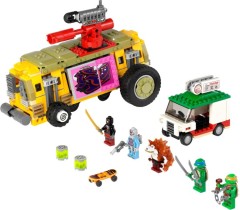 This picture of 79104, The Shellraiser Street Chase, and others has surfaced on non-LEGO sites (shame on LEGO for stitching up AFOL sites, again...)
It, and others that show the minifigs, have been posted on Gizmodo.
I'm hoping for an official press release later from LEGO but I won't hold my breath...
The set comes with Leonardo, Michelangelo, Dogpound, The Kraang a foot soldier minifigs, which is different to what Gizmodo claims: don't they know Leonardo wears blue and Michelangelo orange? :-)
(Thanks to commenters in the earlier thread)
Commenting has ended on this article.