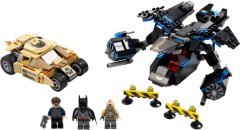 There's loads of NYCC news over at FBTB, including pictures of 76001 The Bat vs. Bane - Tumbler Chase, and 76005 Spider-Man - Daily Bugle Showdown.
The details are:
76001: $39.99, Piece Count: 368, Minifigures: Batman, Bane, Commissioner Gordon
76005: $49.99, Piece Count: 476, Minifigures: Spider-Man, Doctor Doom, Jonah Jameson, Nova, Beetle
Both sets will be available in January, or more likely, after Thanksgiving in the USA.
Commenting has ended on this article.