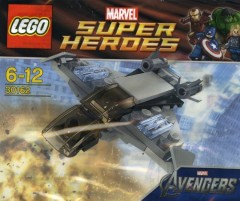 Rich over at BrickFanatics has reported there and in the forum that The Sun promotion, that we've all been eagerly awaiting, will start on 27th October.
The list of sets is allegedly as per the list below, which has also been made into a Bricklist by atkinsar.
30163: Thor and the Cosmic cube
30165: Hawkeye with equipment
30162: Quinjet
30017: City Police Boat
30200: Zombie chauffeur coffin car
30152: City Mining Quad
30085: Ninjago Jumping Snakes
30210: Lord of the Rings Frodo with cooking corner
30211: Lord of the Rings Uruk Hai with ballista
That looks to be entirely plausible, and more so than the previous list that surfaced on a non-LEGO site a while ago.
There's some really great sets in the list and I think I'm right in saying that Quinjet hasn't appeared anywhere else yet, so that is definitely one to look out for. In fact, none of them have appeared in the UK before, so we'll all need to be traipsing down to WHS to do battle with the grannies and scalpers every day :-)
Commenting has ended on this article.