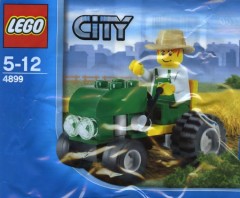 Confirming the previous story, and thanks to 'freston' for the news, the new Daily Mirror promotion in the UK starts this coming Saturday, 24th October. Again, no confirmation yet on where the sets can be collected from on each day, but it's likely to be WHSmiths & TRU as previously. Details of the sets can be seen here and on the Daily Mirror site --I'm particularly interested in the little tractor!
Update: I've created a BrickList showing the sets that are included.
Commenting has ended on this article.