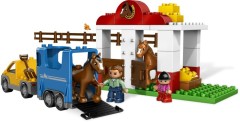 By popular demand, we've added Duplo sets to the Amazon Bargain Watch list, just in time for Christmas. There aren't too many bargains to be had from Amazon.co.uk, but Amazon.es and Amazon.it have many sets discounted below 30%, including this Horse Stables set.
If you're up for some cheap Duplo fun, check out our European Amazon shopper page and tick Duplo in the menu.
Commenting has ended on this article.