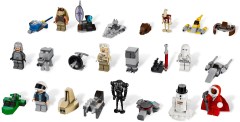 For some unknown reason, this year's Star Wars calendar was vastly overpriced in the USA and Canada, which was unusual given that it's normally Europe that has to pay a premium for Star Wars sets.
Faced with the prospect of a warehouse full of them come December (I suspect), LEGO has reduced the price by 20%, which makes it a more reasonable $39.99 in USA and Canada, and now just about on par with Europe's price of £25 / €30.
If you haven't ordered already, now's a good time to do so: USA | Canada.
Commenting has ended on this article.