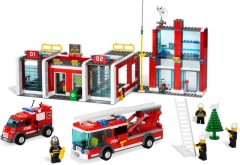 Reports are coming through of year 2010 sets being stocked by Toys R Us in the USA. Sets available include some Creator, Technic, Racers, Atlantis and the new City Fire Station set 7208.
Update 15th Nov: Although they don't appear to be everywhere yet, Chad in Texas who originally told us about this has confirmed that the Toys R Us in north Austin/Cedar Park (Pecan Park Boulevard) in Austin, Texas has those listed by Grahame in the comments and he's reviewed the Atlantis sets at his MostlyBricks blog (--Huw)
Update 17th Nov: There have also been reports of the new Space Police sets out at Toys R Us, but the only confirmation I have is in the same Cedar Park, Texas area. The new SPIII sets include the new full-face space helmets. Available sets are the Raid VPR #5981 and Smash n' Grab #5982. Reviews can be found on the above MostlyBricks blog linked by Huw! (-jkool)
Commenting has ended on this article.