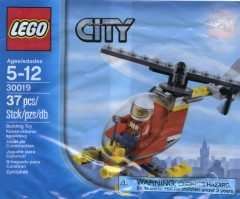 If you're a polybag collector you've probably had trouble finding this one, unless you're in Benelux or Iran. So you'll probably be pleased to hear that it's now available packaged with a selection of three DK books. It's available in WalMart in the USA, and also from Amazon.co.uk
(for about £11). The only picture of it I can find is at Penguin Books Australia.
The three books are:

The LEGO Book: (Excerpted Edition)
LEGO City: Emergency Services Ultimate Sticker Book
LEGO City: Busy Workers Ultimate Sticker Book
(Thanks to bobj21 for the news)
Commenting has ended on this article.