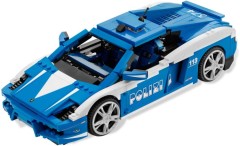 Chowren Toys is offering Brickset readers a special deal on the long-retired 8214: Lamborghini Polizia.
Jason from Chowren Toys says "It is listed in our store right now for $80 (selling for way more on eBay andAmazon.com), but for Brickset members it will be discounted to $60. We are limiting it to 2 per customer. There is a limited quantity so it will be on first come first served basis. Please go to our store and enter the promo code: BrickS8214 at the check out to receive $20 off each set."
Interested? Order it today.
Commenting has ended on this article.