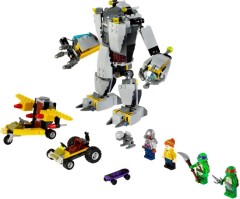 As you may have read in the forum, whung found images of all the TMNT sets on the LEGO image server and posted the links on Eurobricks earlier today, including this 'recently discovered' set Baxter Robot Rampage which is likely to be a 'limited edition' set available only in certain stores.
I've added the 'out of box' images to the database, you'll find them in the TMNT theme browser.
The minifig lineup is believed to be as follows:
Commenting has ended on this article.