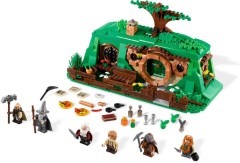 Amazon.co.uk has reduced the price of all LotR sets by 25%, and also has four of The Hobbit sets available for pre-order at a 25% discount. That makes An Unexpected Gathering much more palatable at £45 instead of £60. There's no expected delivery date given but I suspect it will be around 1st December.
All the sets are now listed on the Bargain Watch page.
Commenting has ended on this article.