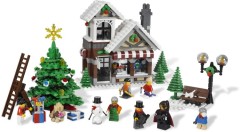 The official Lego Stores in the Chicagoland area are running a promotion right now where you receive a free pick-a-brick box if you spend $75 or more. This will apply to any Lego Store in the USA, however the free pick-a-brick box can only be used after Christmas.
In other news, the Winter Toy Shop #10199 was in stock at the Lego Store as well, over a hundred boxes were available. If you're lucky enough to live near a Lego Store, you can get this set that's currently sold out online.
Commenting has ended on this article.