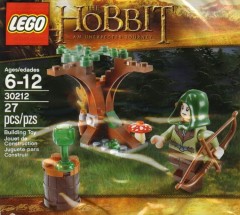 Another excellent LotR/Hobbit polybag has surfaced in TRU in the USA. 30212 Mirkwood Elf Guard features a minifig that does not appear in any other Hobbit set so it's a must for Hobbit fans, minifig collectors and polybag aficionados. There's a Mirkwood elf in set 79004 but he doesn't have a dark green hood.
Although TRU.com will ship internationally, it appears it won't ship this set, so if anyone would be kind enough to ship some over, perhaps in exchange for some Uruk-hai's, please get in touch!
(via The Brick Life, thanks to TAFOL for the news).
Commenting has ended on this article.