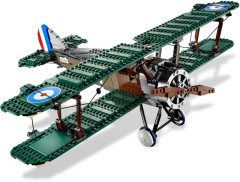 We don't normally clutter up the home page with individual bargains but this one is worth a mention as it's probably the best 'Brick Friday' bargain we'll see this side of the Atlantic. 10226 Sopwith Camel is currently priced at €51 at Amazon.fr.
I've just placed an order for one and the total including shipping came to £48.02 which is a 40% discount, the likes of which is rare to see on a LEGO Exclusive set.
If you're in the market for one yourself, head on over to Amazon.fr before it's too late: you know how fickle Amazon's prices are!
(Thanks to DrDave for the news)
Commenting has ended on this article.