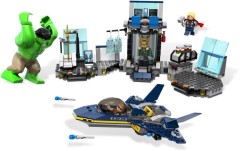 Valid Sunday November 25th through Saturday December 1st, Toys R Us is running yet another Buy One, Get One 50% Off promotion on All* LEGO. And as is normally the case, All* is a subjective concept with TRU as they are excluding Galaxy Squad, Technic and Ninjago. Additionally, Toys R Us has once again increased its markup just before the Holiday season so buyer beware. As many of you noted in the Forum this weekend, Toys R Us advertised many sets at 40% Off for Black Friday while the actual discount off of MSRP for some was closer to 16%! The practice of artificially raising an item's Sell Price so as to then put it on Sale seems a bit despicable to me but I digress...
This week at Target, All Star Wars, City and Super Heroes sets are also on sale. The highlights are the Republic Striker Class Starfighter (9497), Hulk's Hellicarrier Breakout (6868) and Heavy Duty Helicopter (4439) at 20% Off MSRP.
Lastly, keep an eye on Brickset's Amazon Bargain Watch page as there are already quite a few great deals to be had.
Commenting has ended on this article.