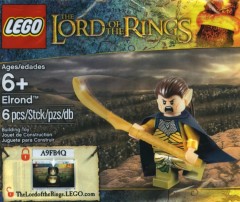 After the limited recall of LEGO Lord of the Rings Xbox game at my EB games store, and my inability to get my Elrond polybag on time, I thought things couldn't get any worse, but I was wrong.
It now appears after waiting for the game to be in stock, my local EB games is claiming they never got any Elrond figures and pre-order or not, they cannot provide me with an Elrond polybag. They even had the nerve to state that it was never part of the pre-order, and I had mistaken the offer for un-lockable content instead.
Have you struck this at your EB? if so, I would highly recommend Canadian users to no longer pre-order at EB if hoping to get any exclusive LEGO deal.
A different but similar story was published at the Buried in Bricks site.
UPDATE: Many apologies to those that feel this post is an attack against EB Games, it was never intended as such. From my perspective this is shopping news that affects all Canadian Lego shoppers. I have since confirmed with EB USA that the poly bags were supplied at limited quantities, pre-order does not guarantee you a poly, first come first served. They however were ready and willing to ship me an Elrond from the USA for my trouble ( did not accept). EB Canada has informed me that Elrond was never part of their offer, even though local staff had assured this, they also offered me a figure (did not accept). In summary perhaps i fell pray to a marketing web glitch, uninformed staff, or just a bad experience, I will be avoiding pre-orders from now on.
I am very sorry to all those that feel this was inappropriately posted.
Commenting has ended on this article.