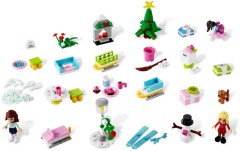 ...which means one thing here at Brickset: we begin our review of the contents of the Advent calendars day by day! This year we'll have more work, what with there being three calendars to open, build, photograph and review every day but, well, it's a labour of love and I know how much you all enjoyed it last time :-).
Last year there was some complaint that seeing them here before you'd opened yours spoiled it for you. I'll probably be posting the articles late afternoon/early evening (GMT) so if you don't want to see them, you can remove them from the news listing by customising your news interests and un-ticking 'Advent countdown'.
Tomorrow's will be posted late evening because I, and all the UK-based staff, are off to the Brickish Christmas party at LEGOLAND Windsor, so check back then for the first installment.
Commenting has ended on this article.