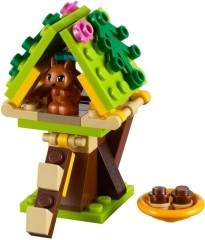 Toys R Us (UK) has added eleven Friends sets, and states they'll be available on December 26th.
The best of the bunch, in terms of interestingness, price and parts are the three foil-packed 'animals with houses' collectables sets, such as this adorable Squirrels Tree House.
Priced at just £2.99 (even in TRU), they look to be a bargain for what's inside them and definitely worth picking up multiples of. I guess they appear to be better value than other low-priced Friends sets because they don't contain a mini-doll.
(Thanks to number5 for the news).
Commenting has ended on this article.