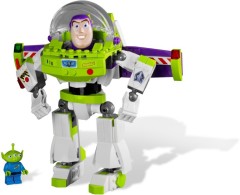 If you're in the UK, head on down to your local Argos right away -- their catalogue now lists all six Toy Story sets and six Atlantis sets. My branch had 4 of the Toy Story sets (no Zurg or Roundup) and it appears from searching online, most branches have two of each of these four, so if you want them, reserve them online or get down there quick! (Thanks to Jasen in the Brickish forums for the tip off!)
Update 27 Dec: cllmkrr says "LEGO Power Miners, Toy Story and City are now avalible from Tesco" which opened for the first time since Christmas today. I haven't checked my local store but I will be doing so first thing tomorrow. It seems TRU also have a good selection, including Ben 10.
Commenting has ended on this article.