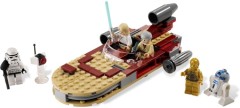 Luke's Landspeeder is now on shelves in Walmarts across the country for approximately $24.97 USD.
If you're having a hard time finding post-Christmas sales, don't worry, we all are. Most places seem to already be cleared out with 2010 sets showing up, which means there might not be very many sales on leftover 2009 items. We'll keep you posted on anything we find.
For now, check your local Toys R Us for a $79.99 sale on the Mon Calamari Home One Cruiser.
Commenting has ended on this article.