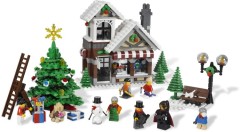 After having been listed as "sold out" during the holiday period, the Winter Toy Shop is again available, but is on back-order until 05 February 2010. This is good news for all those who missed out on this set - including me!
Note: At this time, the Winter Toy Shop is only available to Shop-At-Home customers in Europe, New Zealand and Australia.
Commenting has ended on this article.