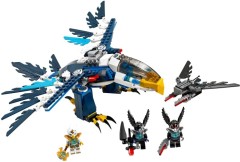 Vous informe que suite à une grosse difficulté d'approvisionnement et des rayons vides, les magasins de Toys R us de toute la France, mettent en rayon dès demain les gammes
CHIMA et les Friends 2013
Due to empty shelves and difficulties with supply, Toys 'R' Us in France will reportedly start stocking the Friends and Legends Of Chima 2013 sets as of tomorrow (20th)! These were not due to be put on sale until the 26th December. Let us know in the comments if you have any success in finding these items.
Thanks to Georg for the tip!
Commenting has ended on this article.