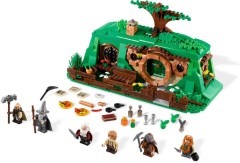 We haven't conducted our own awards ceremony here at Brickset as you will have noticed. We did talk about it but then never got round to it. So, once again I will direct you to our very own DrDaveWatford's blog, Gimme LEGO, where you can read which sets and themes he thinks are the best of the year and also vote for your favourite.
Dave tells me that he's just clocked up his 500,000th page view, which works out to about 7,000 a day since the site was launched two years ago, which he's very pleased about.
Commenting has ended on this article.