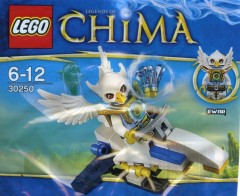 Spend £50 (UK) or $75 (USA/Canada) at shop.LEGO.com from now until the end of January, and you'll receive a free 30250 Legends of Chima Ewar's Acro Fighter polybag. In the UK, there's free shipping until 14 January on orders over £50 too. Click on the banner at the top of the page to get shopping.
For some reason best known to LEGO, the only 2013 sets available at shop.LEGO.com in the UK at the moment are LoC and Friends, and it's the same in the brand stores too.
I received the paper S@H catalogue a few days ago, which claims that other 2013 sets will be 'available for purchase on 1st January', so hopefully they'll be added overnight. Interestingly, the paper catalogue does not contain TMNT or Galaxy Squad. I hope that's because of a lack of space and not because they won't be available yet.
Grogall has uncovered an online copy of the Italian consumer catalogue which is interesting to see. It doesn't contain TMNT either, and Galaxy Squad is shown as being available in March. It does however show the new architecture set Imperial Hotel and series 2 of the Friends polybags.
addictedtostyrene tells me that "Myer in Brisbane Australia have 2013 Ninjago, Hobbit sets ... as well as CMF series 9" so it looks as if the UK is the last place to be able to buy the new Ninjago sets :-(
I guess we'll have to see what happens overnight tonight...
Commenting has ended on this article.