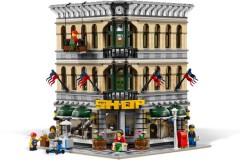 The next modular building, 10211 Grand Emporium, is now listed at LEGOShop.com, and will be shipping at the end of February in North America and Europe.
Here are quick links to the shop: USA
| UK
I was anticipating that LEGO would 'big-up' its launch because, you may remember, they asked me to remove the images we posted at the beginning of January so as not to spoil the surprise. I guess that given none of the other fan sites pulled the images, they decided not to bother.
Update 6th Feb: For some reason the set has been removed entirely from LEGOshop.com: the links above lead nowhere now. All very strange, particularly given it's already for sale in UK brand stores.
Commenting has ended on this article.