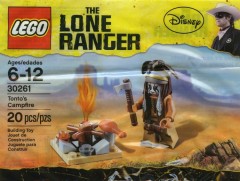 A couple of Lone Ranger polybags have come to light, thanks to flickr user motayan, together with images of others that we listed earlier in the week.
30261, pictured, Tonto's Campfire features Tonto and, er, a campfire and 30260, Lone Ranger's Pump Car contains, believe it or not, the Lone Ranger and a pump car. It's a shame the images are not a bit bigger such that we could get a good look at the minifigs.
Via Toys N Bricks.
Commenting has ended on this article.