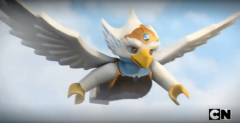 The LoC TV series has kicked off in the USA, and now also in Canada, I believe.
As I've mentioned before, it won't be shown on UK TV and I suspect licensing agreements with the Cartoon Network will prevent LEGO from posting the episodes online for some time.
Thankfully, they can be watched on the Internet, although they are a little hard to find, too hard for me, in fact :-) But, thanks to a couple of respondents in the forum, they've been found on a site called Dubbed-Scene.com. It's a pretty awful site to look at and to use, but thankfully the videos themselves are embedded in iframes from another site and they can be played directly from the links below:
The bit rate is pretty poor and they certainly aren't in HD but you can of course get the gist of them. I've watched Episode 1 which explains how the 'war' started. It's definitely worth watching if you have an interest in the Chima back story.
It also settles the argument -- if there ever was one -- about how CHI and Chima are pronounced. It is Chee and Cheema, and not Ch-eye and Ch-eye-ma.
Commenting has ended on this article.