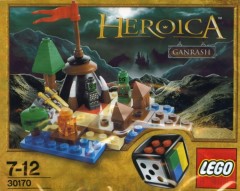 Back in December, I ran a small competition to win some rare polybags. I was planning to announce the winners in my next Confessions article but unfortunately, I'm a little behind schedule on writing it (coming soon I promise!) but rather than make you wait any longer, I thought I'd announce the winners now.
So without further ado, I can reveal that the winner is...
Fikko3107
from Indonesia who wrote a very thorough and informative
review of 30090
: Desert Glider and as a result will be receiving both
30170
: Ganrash and
30182
: Santa. At current Bricklink prices, these two polybags are worth over £20.
The runner up is
JaseTJ
for their
review of 30213
: Gandalf at Dol Guldur. You will receive your choice of either
30170
: Ganrash or
30182
: Santa.
I'd also like to give an honorary mention to
CamberbrickGreen
for their humorous and inventive photography whilst
reviewing 30211
: Uruk-Hai with Ballista. Technically you wrote your review prior to the competition even starting, and I was looking for new reviews, but I feel efforts like this should be rewarded, so I'm going to send you a 'surprise' prize (hint - it will be a polybag).
Congratulations to all the winners and thank you very much to everyone that contributed reviews, even if you didn't win, you can sit back and bask in the warm fuzzy glow of knowing that you are helping to make the best LEGO site around even better with your reviews, so keep it up!
I'll be contacting the winners shortly to arrange delivery of their prizes. Make sure you keep an eye out for the next confessions article which will include another competition with some great prizes.
Commenting has ended on this article.