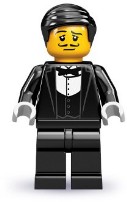 For most of the community, this is old news, however for us Canadians, series 9 minifigures are just starting to appear in stores.
I was able to pick up a case at my local Toys R Us here in Western Canada. Have you found them in your local Canadian stores? Please let us all know if you have spotted them as well.
It's a great set of figures but as stated before, I was only able to get two complete sets from a case, which is a disappointment.
Commenting has ended on this article.