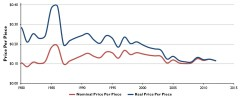 'LEGO is really expensive nowadays'. 'LEGO used to be much cheaper when I was a kid'. 'Licensed LEGO sets cost a fortune'
How many times have you heard people make such comments, or even made them yourself?
When looking at the price of current sets it's easy to see why people think they are expensive and cost more than ever. But is that actually the case?
Andrew Sielen wondered the same so set out to find out if there is any truth in it. He extracted information on pieces and prices from Brickset, then analysed it and wrote a very interesting article on his findings. The article, The Price of a Brick, considers the price per brick, the average price of sets, the number of pieces in sets, and so on, over time, and draws conclusions that might surprise you. As well as the hard facts and calculations, he also considers why there is a perception that it's expensive these days.
It's an excellent thought-provoking article. Read it, then let us know what you think, either in the comments here, at the source article, or in the forum, where the article was first brought to my attention.
Commenting has ended on this article.