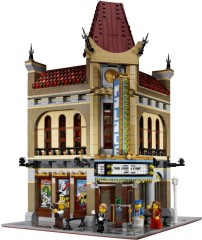 LEGO has apologised for not having this ready for the launch last week. It's now available on YouTube and, in recognition of the value of the designer videos, I've added a new 'Video' tab to the set details page into which the video has been embedded which should make them easier to find in the future.
So far I've only added the Palace Cinema one just to check it all works, but in time I will add links to them all. In fact, if you'd like to help gather the data for them I'd be very grateful. All that's needed is the YouTube ID for the video which in Palace Cinema's case is vCjG9nfY2nsk. Get in touch if you can help!
Commenting has ended on this article.