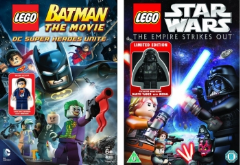 I do like a good LEGO movie, particularly when they are packed with exclusive minifigs.
Earlier in the week it was announced that Star Wars: The Empire Strikes Out, which war originally shown on Cartoon Network in the USA last year, will be available on DVD (and hopefully Blu-Ray too) in March on both sides of the Atlantic. It will be packed with a limited edition exclusive Darth Vader minifig, who's sporting a celebration medal.
Yesterday, news of a second one emerged: Batman the Movie: DC Super Heroes Unite. It will be available mid-May and comes with a very cool looking Clark Kent/Superman minifig.
They can be pre-ordered from Amazon, although they are not both listed at the moment:
(via Idle Hands)
Commenting has ended on this article.