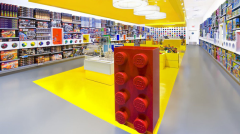 News has emerged this week that LEGO is opening two new brand stores in the UK in the next few months.
One of them will be the first to open in Scotland, and will be at Glasgow's Buchanan Galleries shopping centre in the middle of the city. You can read more about this at the STV Glasgow website (via the forum)
The second one will be in Leeds, in the Trinity Centre. LEGO has posted an ad. for the manager's job, with an anticipated start date of March. (thanks robyaw)
It's great to see that there is some good news on the high street, following the collapse of so many well known chains. Let's hope the expansion continues as far as Southampton before too long...
Meanwhile, the grand opening event at the last store to open, in Watford, is said to be 21 - 23 February. No news on freebies but they are bound to be the same as every other one: T Shirts, brand store models, and minifigs. (thanks FinnTheHuman in the forum)