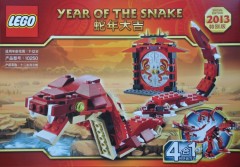 In China, 2013 is the year of the Snake, which begins on 10th February. To celebrate this and, I suspect, to increase interest in the brand in China, which is now the second largest economy in the world, LEGO has released this set 10250 Year of the Snake.
Instructions for it appeared on the LEGO Customer Services page a few weeks ago; now we've received reports that it's been seen in Chinese shops. Chris in Shanghai bought one from his local Carrefour, for 249 CNY (~£25/$40), and there's quite a few for sale on Taobao (Chinese eBay). There are some lots on eBay.com at the moment, and I suspect it's only a matter of time before they appear in eBay.co.uk and BrickLink, although you'll probably need to pay through the nose for one :-)
Commenting has ended on this article.