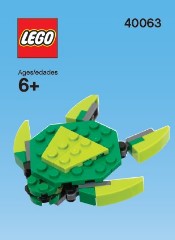 Grogall has uncovered more instructions for the 2013 MMMB sets, 40061-40072 so we now have a complete set, except for November, when Europe and the USA usually have different models, due to Thanksgiving.
These MMMB (Monthly Mini Model Build) sets are given away at an event at the start of every month at LEGO brand stores. They are hard to get hold of: not only do you need to be at the store on the right day and at the right time, you also need to have a child with you, because they are supposed to be given out to kids only. Dates and times are publicised at stores.LEGO.com.
Until the end of 2011 they were not so much sets but consisted of an instruction card and a pile of loose bricks that you gathered for yourself in-store. However, due to obvious problems with this arrangement, since January 2012 they've been bagged up in clear polybags and given proper set numbers.
By the end of 2013 there will have been 69 or 70 MMMBs. In July 2010, LEGO started publishing the instructions online but only makes them available for a month. However, we've been archiving them, so you can download them from links in the search results.
Some of this year's look very nice, particularly the animals. Even if you can't get to the shop to get the official set, you can have a go at building them from parts in your collection. I certainly intend to.
Commenting has ended on this article.