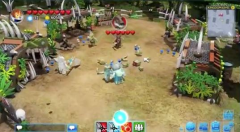 BrickUltra is reporting that 'LEGO has leaked' screenshots of the forthcoming massively multiplayer online game Legends of Chima Online. You can view more by clicking on the image.
You will recall a press release, published earlier in the month, described the game thus:
"In autumn 2013, LEGO Legends of Chima Online, a free-to-play, online world developed by WB Games Montréal, will provide kids with a safe and incredibly immersive connected game experience. Players will be able to build and customize their kingdom in the world of Chima, explore massive environments like the Falling Leaves Forest, take on missions to help Laval and his friends, uncover hidden secrets and treasures, earn rewards, and use LEGO bricks to build weapons, gadgets, and more!

"The Chima Vault, which houses an exclusive reward system, will be accessible to players on LEGO.com/chima. While playing LEGO Legends of Chima: Speedorz and LEGO Legends of Chima: Laval's Journey, players will be able to earn points. These points can be redeemed through the Vault for a variety of unique content that players can use to enhance their experience in LEGO® Legends of Chima Online."
Unlike LEGO Universe, that flopped badly primarily due to its revenue generation model (monthly subscription), this is going to be a free-to-play game. I suspect LEGO is hoping that, by having it so inextricably linked to the models, it will help shift more Chima sets. I wouldn't be surprised if buying sets unlocks additional content somehow, perhaps via the reward system described above.
So, are you looking forward to playing this?

Commenting has ended on this article.