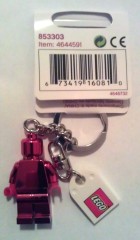 ... well, at least, it seems to love some VIPs who've been sent this red-chrome minifig and a Valentine's card.
mmaldony emailed the picture and said "I received a Valentine's Day card in the mail today from LEGO with an Exclusive LEGO VIP Key Chain - #853303, item #4644591. The card says it is a thank you for being a valued LEGO VIP. It was sent from LEGO UK in Derby to my Austrian address."
Update: I've had it confirmed by the LEGO affiliate manager that these are being shipped to VIPs in Europe and North America, and most should begin arriving on 7th February.
Update 2 : We've been told by the folks at LEGO that not every VIP member will get one of these key chains - only "the most active and engaged VIP members based on a list of criteria including purchase frequency". So fingers crossed !
Commenting has ended on this article.