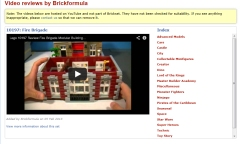 It's a quiet week for news, isn't it, so it's just as well I have the video reviews features to bore tell you about :-)
There are now over 1800 review links in the database, including over 220 by Artifex Creations, whose reviews are highly regarded by many.
To make it even easier to find and watch the videos, I've created an Index of video producers page, which lists all producers, a random video review, and a list of recently added reviews. The links on the page lead to an index of reviews by the producer, grouped by theme. Click on the image for an example.
The next job is to provide better link management tools for link submitters.
Commenting has ended on this article.