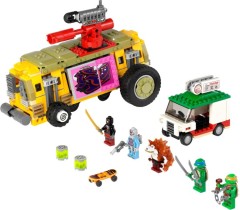 There's not long to wait now until the UK launch of the TMNT theme, and of all the first wave of sets, this was the one I was most excited about, so I was understandably pleased to be offered the opportunity to review it here for Brickset.
Having now seen the first fourteen episodes of the 2012 TV series (and having thoroughly enjoyed them too), I can tell you that The Shellraiser is yet to make an appearance other than in the title sequence. I for one can't wait to see this baby in action, so I'm kind of hoping it will make an entrance soon and kick some Kraang butt.
This is the largest set in the launch line-up, at least in piece count (620), and will set you back a cool US $59.99 / GBP £59.99.
Now I'll lay it on the line, I'm pretty certain this is a new mode of transportation for the turtles that has been freshly created for the 2012 reboot. I'll be honest though, I'm not familiar with any source material save for the original cartoon and the latest incarnation, so all I can say for sure, is that it doesn't appear in the original cartoon series, in which of course, the preferred mode of transport was The Party Wagon.
Well, The Party Wagon has some pretty large boots to fill, so let's see what The Shellraiser has to offer.
Update: TLG have made some alternate build instructions available to the fan community (source: Brick Fanactics) so I thought I'd have a go at making the Hot Rod, which I think is pretty cool. Skip to the end of the review to see some pictures.
Box and Contents
The box is a fairly sizable rectangular affair, and looks very attractive with its predominantly purple colour scheme.
The box art contains the usual array of action shots that you'll never be able to recreate without lobbing your minifigs through the air.
There's also a cut-out shot of the four minifigs and one character that come with this set.
The back shows the play features in both brick form and cartoon form. As is my review style, I'm not going to linger on the box and contents; it's all there for you to see.
There are five numbered bags, with the chassis and back tyres packed loosely in the box. Oh, and there's the dreaded/loved sticker sheet, depending which side of that fence you sit on. No protection for the instructions and stickers was included, still everything was nice and pristine when I slid the contents out, so no complaints here.
The predominant colour of the day here is bright yellow, and lots of it. There's also a nice smattering of the new olive green, which is definitely my colour of 2013 (the wife also tells me it's 'in'). With a dash of bright pink thrown in for good measure, one thing becomes quickly clear, this isn't some sort of stealth vehicle that's going to be happy blending into the background, it's a very 'in your face' colour scheme that seems to have attracted as much as it's repelled. (For the record, I like it).
Minifigs
As mentioned earlier, there's four minifigs included and one character, although strangely, the official description from TLG states three minifigs and two characters, thereby classifying The Kraang as a character. I've no idea why this should be, it looks like an out-and-out minifig to me.
Turtles first…
Leonardo, the leader of the Turtles, is looking suitably menacing with his angry face and blue bandana. Leo's dual wields two katana, storage space for which is provided in one of the doors of The Shellraiser.
Leo has diagonal leather strap printing on the front of his torso as well as across his shell piece. He shares this printing with Donatello, whereas Mikey and Raphael have none, presumably because their weapons don't require it.
Underneath that shell piece, Leo sports full back printing of a shell with leather strap, so you're not tied to using the shell piece if you don't want to.
Clearly he looks pretty similar to the rest of the Turtles, so there's not too much to say other than the head piece is unique to this set, whereas his legs, torso and shell also appear in 79103: Turtle Lair Attack . This seems to be a trend in the first wave of TMNT, each Turtle appearing in two different sets but with the head being unique to one set.
Michelangelo (or Mikey) is identical to the one I reviewed in 79100: Kraang Lab Escape save for the head piece that is of course unique to this set. I guess you could call this his cheeky face, well he is the joker of the pack I suppose. Mikey comes equipped with a different weapon in this set to his normal nunchucks, not really sure what to call it to be honest, it looks like nunchucks with spikes to me, but I'm sure there's a less technical name for it than that!
On to the baddies, first up we have a Foot Soldier, looking splendid in dark red and black. I was a little critical of the foot soldier minifig from the Lab Escape set for being a little dull. This one is better, with the variation in colour helping, along with a more interesting front torso printing. He's still not setting my world on fire, but I'd prefer an army of these to the all-black foot soldiers any day. He fights with a single gold katana. Apologies for the out of focus head, he was zipping around at the time, ninjas are notoriously difficult to capture on film you know.
Next we have The Kraang sporting a snazzy exo-suit. As we all know, The Kraang are actually bright pink slimy tentacle aliens, but since that isn't a particularly efficient method of transportation in New York, they like to inhabit the torso of blue robots. Presumably this helps them blend in too, which is pretty important with a forty hour per week job of taking over the World . Of course, this one wouldn't blend in so well, given he forgot to put any bio-skin on, but we all have our off days.
The scale of course is well off, if you've seen The Kraang from 79100, you'll know there's no way The Kraang would fit inside a minifig torso, but now you know, let's go with it. Instead, we get The Kraang printed onto the torso, both front and back, along with front and back head printing. He's a lovely minifig that I'm rather taken with the truth be told.
Last but definitely not least, how could we forget Dogpound, so named by Mikey because "he's a dog and he pounds our faces!". So we've had minifigs, of the short legged, normal legged and long legged variety. We've had maxifigs with their immovable legs, and now we've got, what, midi-figs? TLG swerve all this naming nonsense by just calling him a 'character', but we can do better than that can't we?
Dogpound has standard minifig legs but a torso more akin to a maxifig such as The Hulk. His torso comes in three pieces and you have to attach the arms to the body, both of which move freely and will hold standard minifig weapons.
One arm is significantly larger than the other, and it's not up to me to cast any aspersions as to why this might be, but regardless it surely helps to deal out some extra pain to The Turtles. As you can imagine, with such tiny legs to carry that torso around, he does have a little trouble standing up, but the tail helps to counterbalance him a little. I'm not hugely impressed by the torso printing, which is a little rough in places, and I also think the scale is slightly off, I don't know, he just seems bigger in the cartoon. Overall though, I think it's a decent enough effort.
The Build
Before we get to the main event, we need to take a look at the main villian's wheels, the vehicle that puts the "Chase" in "The Shellraiser Street Chase", the mighty Pizza Delivery Truck.
Or to give its full name "Anotonio's Pizzarama" Pizza Delivery Truck, a 6-stud wide vehicle that is, quite frankly, more margherita than meat feast.
It's not that it's bad, it's just not that good, a very straight up and simple build that is quickly over. There's plenty of stickers to apply to such a small truck, four of them alone make up the signage on the roof. I have to give some credit for the "I Love NY" sticker plastered to the rear door though, very cute. I'm going to assume the initials on the number plate are those of the set designer(s), but maybe you know better?
The inside of the truck is practically empty, the reason being it needs to seat Dogpound's considerable frame. It must be pretty uncomfortable for the poor old mutant, since no seating of any kind is provided.
The double doors at the back open outwards and there's enough room to transport two containers of toxic ooze (there's stickers on those too).
That's it really, it's an OK vehicle, but I can't say I'm particularly taken with it.
On to the protagonist's vehicle, The Shellraiser, an 8-stud wide subway car which those cheeky turtles (probably Donatello's work since he's the brainy one) have made some teeny tiny modifications to, like adding massive tyres and a honking great cannon to the roof, you know just minor stuff like that.
The Shellraiser is built from the large chassis piece up, with the two ends of the subway car built first leaving a large gap in the middle for the doors.
I confess I found this one of the most fiddly and frustrating builds in recent memory, mainly because any sort of downwards pressure placed on the bricks (you know, the sort of pressure actually required to build LEGO) kept on detaching the chassis from the 1 x 16 beams and the Technic beams. It's one of those builds that doesn't really get much stability until it's quite close to finished, and I lost count of the number of times I had to fix it as I built.
At the mid-stage you can see that the subway car is pretty much symmetrical in its design, which I guess it would be if it was in any way true to the real life thing.
Notice the four column structures build using 2 x 2 round bricks, there are two of these on each side of the car. These columns form the basis of the clever wheel mechanism; more on that later.
A large cavity is left on the underside of the car, this is where the train wheels will be situated later in the build.
There are identical control panels (stickers) at either end of the car, although there is a definite front and back to the subway car itself as one end has a bumper, and later when the wheels go on, it's pretty clear which way it's supposed to be driven.
Next up you construct the side doors, attach the wheels, train wheels and build the roof. The wheels and train wheels deserve a special mention, because what may not be apparent at first glance is that the tyres slide up and down on two parallel Technic axles. Why on earth would they do that? Well, when the tyres are slid to the up position, the train wheels that fit in the cavity underneath are in contact with the ground, and this allows the subway car to ride the rails.
It's a genius mechanism and a killer feature for me, meaning it'll run on track like this allowing for endless play possibilities if you've got some of it set-up ready to go (you don't get any with it, which is a bit of a shame in my opinion).
It's not without fault though, there's no real locking mechanism to secure the wheels in place and it relies heavily on a tight fit and friction to keep the wheels down. In practice, during play, the wheels tend to get pushed up, become lop-sided and no longer make contact with the floor, meaning they don't all spin. I suspect this problem will only get worse over time as the fit becomes looser.
The front of the subway car has a large bumper attached, which I rather annoyingly position upside down whilst photographing (just getting that one in first!). You can see some of the olive green pieces put to good use in this shot.
The rear of the car is pretty much the same minus the bumper, although you can see some minor detailing variation in the design.
The side doors to The Shellraiser lower down via the use of 1 x 2 vertical double clips, and honestly, it's not a strong enough mechanism to cope with even light play. Those doors are forever falling off and could really do with strengthening. The doors themselves reveal some of the Turtles' gadgetry when in the lowered position. The first door houses a computer terminal and a skateboard. The computer and keyboard are printed pieces but the top of the skateboard has a large sticker.
The second door conceals a weapons rack, with Leonardo's second katana and Mikey's spiked chained weapon. Another minor annoyance with the doors is that they are too close to the rear tyres when in the lowered position, you can see how tight it is in the pictures.
The doors themselves require the application of some bright pink graffitied stickers, two per door. One thing that bugged me about these stickers is that the patterns on the stickers don't really line up, although clearly they're supposed to. I'm not sure leaving these stickers off is much of an option, because you'll be left with fairly plain looking sides if you do.
The photo below shows the wheels in the raised position, which allows the subway car to move on the rails.
The roof uses olive green plates that rather neatly brings to mind a turtle's shell. Sitting upon which, is the gigantic trash cannon complete with missile launcher. This is another neat play feature that as usual, packs a decent punch.
The cannon can be raised and lowered and rotated through 360 degrees, but it doesn't use a ball and pivot to give it unlimited movement. Again, in play, the cannon tended to fall off a fair bit, a recurring theme with this set I'm afraid.
It's worth mentioning that's very little inner structure in The Shellraiser. The roof lifts off to 'play inside' but there's not really much to play with in there truth be told. A much better use of this space (for adults at least) would be to stick a power functions motor in there, my guess is somebody already has.
Conclusion
I can't remember the last time I found so many flaws in a set but was so willing to put them aside and just enjoy it for what it is.
This set is nuts, stark raving, eye wateringly bonkers, it's also good, really good. To critique this set from AFOL point of view is almost missing the point, unleash your inner seven year old (or, if you're seven, get to bed, you're up way too late) and revel in the sheer and utter lunacy of it. Value for money? Well, let's just say I'd wait for a 20-30% discount before picking it up, but then I'd say that about pretty much any set, especially licenced ones.
Pros
The wheel mechanism is great, as is the fact it can run on standard track.
It's crazy, but crazy good.
Solid minifigs.
Bright and eye-catchingly colourful.
Cons
Fiddly to build, has stability issues until the latter stages, and the Technic beams constantly detach from the chassis during construction.
The doors open too close to the back wheel and detach very easily, especially when attaching the skateboard.
The wheel mechanism has no lock-in-place, often resulting in the front wheels not making sufficient contact with the floor to gain traction.
Did I mention it's a tad fragile?
Too many stickers.
The truck is basic and a little dull.
Could have come packaged with a small bit of track and some street scenery.
I know what you're thinking, that's an awful lot of cons and not a lot of pros, so how come you like it? Quite simply, some sets cannot be summed up with mere ticks and crosses in the plus and minus columns, some transcend rational thinking, and this is one of those sets.
I'll give the last word to my four year old on this review, it's always useful to get a kids perspective on these adult toys, you know, just in case you're thinking of doing anything mad like giving them some of the stuff.
It can pretty much be summed up in one short and oft repeated conversation…
"Daaaaaadd"
"Yes son?"
"Can I play with your Turtles set?"
"Well ok, just promise you won't lose any bits."
Sixty seconds later…
"Daaaaaadd"
"What?"
"I didn't mean to break it, can you fix it?"
Repeat the above every single day for the past (and probably next) four weeks. Sums it up rather nicely I think.
Alternate Build - Hot Rod
Commenting has ended on this article.