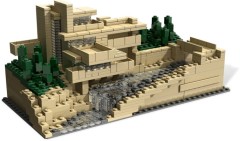 After last week's dearth of news, this week has been crazy! At long last the Architecture range of sets is available in European LEGO brand stores and also from LEGOshop.com. Mind you, the prices are astronomical. The biggest and best, Fallingwater, is a whopping £75 or €79 for 800 pieces, which I guess is on a par with Star Wars in terms of price per piece so perhaps it just looks worse because the box is small. However, the Empire State Building
takes the biscuit: £20 or €20 for 77 plain bricks: that's 25p a piece!
I'm not exactly encouraging you to buy them, am I, but let me finish by saying that despite the high prices, Fallingwater and the Guggenheim Museum
(£35, €35) are very nice models and if you can afford them they are worth adding to your collection.
Commenting has ended on this article.