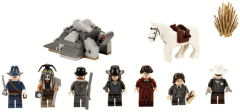 Overnight, Yahoo Movies published a hi-res photo of the forthcoming Lone Ranger set 79111 Constitution Train Chase.
It will contain 7 minifigs: The Lone Ranger/John Reid (played by Armie Hammer), Tonto (Johnny Depp), Rebecca Reid (Ruth Wilson), Danny Reid (James Badge Dale), Butch Cavendish (William Fichtner), Latham Cole (Tom Wilkinson) and Captain Jay Fuller (Barry Pepper).
The train looks pretty cool, perhaps more so than might have been expected. I'm surprised that it comes with a loop of track; usually that's left out to cut costs.
The LEGO set description reads:
"The chase is on to save Rebecca and Danny from Butch Cavendish and his gang of henchmen onboard the speeding train, Constitution!
Help Tonto to place the dynamite and blow up the water tower to stop the speeding train in its tracks!
Ride to the rescue with the Lone Ranger alongside on his trusty horse, Silver.
Jump aboard the highly detailed locomotive with 3 cars and dodge the gatling gun!
Uncover the secret coal wagon hideout, blow the prison wagon door with the dynamite and escape to safety with Rebecca and Danny!"
The New York Toy Fair starts tomorrow so we should see a lot more news like this emerge over the weekend. Unfortunately there won't be any Brickset staff at the event but we'll do our best to keep you informed of where to look for the top stories.
(Thanks MrCurtis for the news).
Commenting has ended on this article.