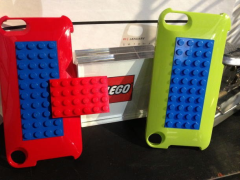 Belkin, manufacturer of tech products including phone cases, today announced it had struck a deal with LEGO to make 'buildable' phone cases, initially for Apple products.
I'm sure this will be a dream come true for many: those who are both LEGO and Apple fan boys, of whom there are quite a few on the Brickset staff :-)
I don't think this image is necessarily a picture showing what we can expect because it was taken at CES last month, before the announcement. But if they are anything like that shown, they'll be pretty cool...
Source Engadget. Read the press release at Belkin.com.
Commenting has ended on this article.