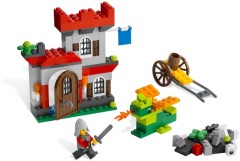 Here's the February offer from our good friends over at Chowren Toys:
LEGO Bricks & More 5929 Knight and Castle Building Set for just $7.50!
"This set comes with 144 pieces and 1 castle minifigure. US MSRP is $9.99 and is available to Brickset readers at 25% off retail. Please use the promo code: 5929BrickS to receive the discounted price of $7.50.
"The limit is up to 12 per person while quantities last. As with previous promotions the more you buy the average shipping per items goes way down. A quick consideration about shipping: If the rates seem high please note USPS just increased their rates by about 10%. Although we do charge a very small handling fee, any overcharge due to shipping calculator limitations will be refunded to you. In order for us to control and limit quantity, you will need to register an account in order for the coupon code to work."
At $0.05 per piece, that sounds like a great deal. Click here to place your order.
Commenting has ended on this article.