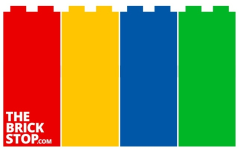 A week or so ago a project was launched on KickStarter which aims to create a new LEGO parts trading website.
It could be argued that there is a perfectly good platform already for buying and selling LEGO but, it has to be said, it is a little dated, and unfortunately has suffered from a lack of investment and development recently.
I would also argue that to the new or casual LEGO buyer, working out how to actually use the existing site is very daunting. It's OK for you and I who have been using it for 10+ years but imagine if you stumbled across it for the first time today, what would your opinion of it be?
It's also incredibly difficult to perform certain tasks on the site, like take a list of parts you want, perhaps to make a model that someone else has designed or to reconstruct an old official set, and then work out the most efficient and cheapest way to buy them. Or find out what the cheapest minifig available is. Or know, before you place your binding order, how much the seller is going to charge for postage and other fees. Sure, they can be done, but it's hard work. The site is extremely functional for sellers, but not so much for buyers and, surely, that's the wrong way round.
TheBrickStop aims to address these, and other issues. You can read the proposal, and watch a video about it, on its KickStarter page.
One of the features they are proposing is to have zero selling fees. That sounds great, doesn't it, particularly if you're a seller, but it does of course mean they'll need to raise revenues in other ways, mainly by selling advertising it seems, which for everyone else could soon get annoying (that's why you all love Brickset, right, because it has very little advertising!). It also means that the site itself won't be able to operate an affiliate scheme and thus probably won't get marketing assistance from established sites, like Brickset, which could result in a very slow takeup of buyers and sellers.
Needless to say, there is some concerned discussion going on at the other site about having a competitor, but from what I can gather they (at least, those that are vocal in the community there) are largely dismissive and are planning on resting on their laurels, safe in the knowledge that they have a huge user base, a mass of data, and a well established website, all of which will take some beating. That sounds a bit dangerous to me...
Competition in any marketplace is a good thing, so although I have a few reservations about the proposals, I welcome this initiative and I encourage you to read the proposal and pledge your support if you do too.
I'd be very interested to hear what you think about it in the comments.
Commenting has ended on this article.